Beginning January 2021
Updated: 15 December 2020
All courses will be offered in 3-credit hour with additional electives. The requirements for the various programmes are illustrated in the attached charts.
Greater emphasis will be given to Practical Theology where:

All credit-hours under Field Education will be graded.
Existing 2-credit hour courses on Practical Theology will be increased to 3-credit hour courses.
Additional core courses will be introduced for undergraduate programmes.

Various theological disciplines will be integrated into the curriculum.
Additional attention will be given to courses reflecting local contexts.
Thesis will be offered as an option for MDiv programme (but remains a core for students wishing to major an area of concentration).
SEVEN areas of concentration for MDiv, BD, BTh programmes will be introduced:

Biblical Study:

(1) Old Testament,
(2) New Testament,

Theology and History:

(3) Christian Theology,
(4) Church History;

Practical Theology:

(5) Pastoral Care and Ministry,
(6) Missiology,
(7) Christian Spirituality and Worship.

Students opting for a specific area of concentration will use the relevant electives, including a thesis or two research papers to fulfil the additional requirements.

The specific areas of concentration and electives will be offered subject to the availability of supervisors and lecturers.
TWO entrance examinations will be introduced for new applicants:

Bible Entry Exam: A course on "Bible Overview" will be required for students failing this exam.
English Language (only for English track): Remedial English course will be required for students failing this exam.
From: The Academic Office, STM.
Note:
Contents herein are subjected to periodic reviews by STM Academic Committee to enhance the quality and effectiveness of the programmes. Kindly refer to STM Web Site for the latest information.
For details about list of courses offered, please contact the Academic Office; or visit the Course Descriptions page of STM Web site.
---
REQUIRED CREDIT HOURS FOR PROGRAMMES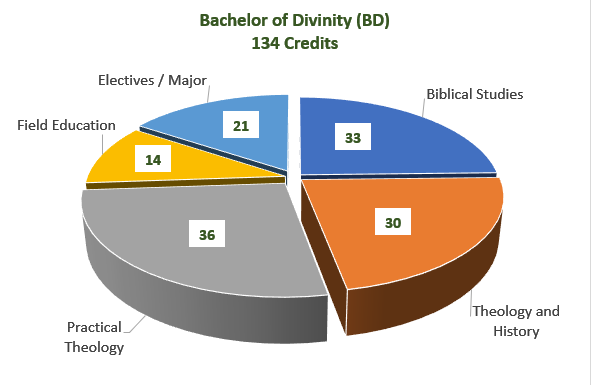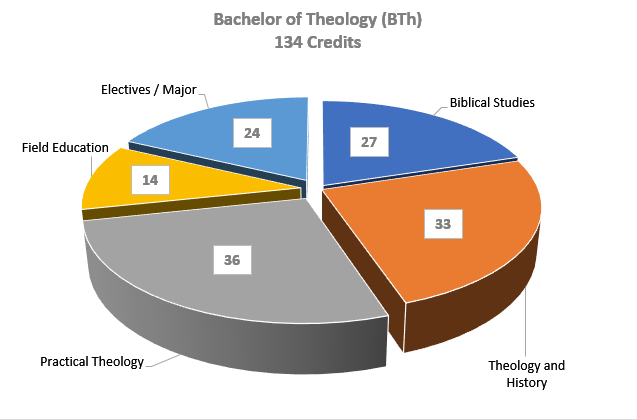 SCHEME OF COURSES FOR PROGRAMMES 
COURSES
MDiv
BD
BTh
BIBLICAL STUDY
Biblical Hebrew 1; Biblical Greek 1
√
√
Bible Overview; Inductive Bible Study
√
An Introduction to OT; An Introduction to NT
√
√
√
OT Exegesis: Pentateuch/ Historical Books / Poetic Books/ Prophetic Books/ Wisdom Literature  *
√
√
√
NT Exegesis: Gospels/ Epistles/ Apocalyptic Books *
√
√
√
Exegetical Method
√
√
√
THEOLOGY & HISTORY
Christian Theology 1, 2, 3, 4; Church History 1, 2
√
√
√
Basic Christian Doctrines
√
Doing Theology in Asia / Intercultural Theology
√
√
√
Christian Ethics & Issues; World Religions
√
√
√
Malaysian Church History and Society
√
√
PRACTICAL THEOLOGY
Basic Counselling
Either One
√
√
Christian Education
√
√
Missiology
Either One
√
√
Evangelism in the Local Church
√
√
Homiletics 1
√
√
√
Homiletics 2
√
√
Cross-Cultural Missions; Sexuality & Marriage
√
√
Pastoral Leadership & Church Management
√
√
√
Christian Spirituality; Liturgy & Worship
√
√
√
Denominational Studies; Field Education
√
√
√
Electives (up to the required number of credit hours)
Options for students
Thesis / Research Papers + Electives in specific area of concentration (for those opting for an area of concentration)
* To cover the required categories of books in the Bible for OT/NT Exegesis as stipulated in the curriculum of the respective programmes of study.  For details, please refer to the Academic Office.