Announcement on Restriction of Movement Order
stmweb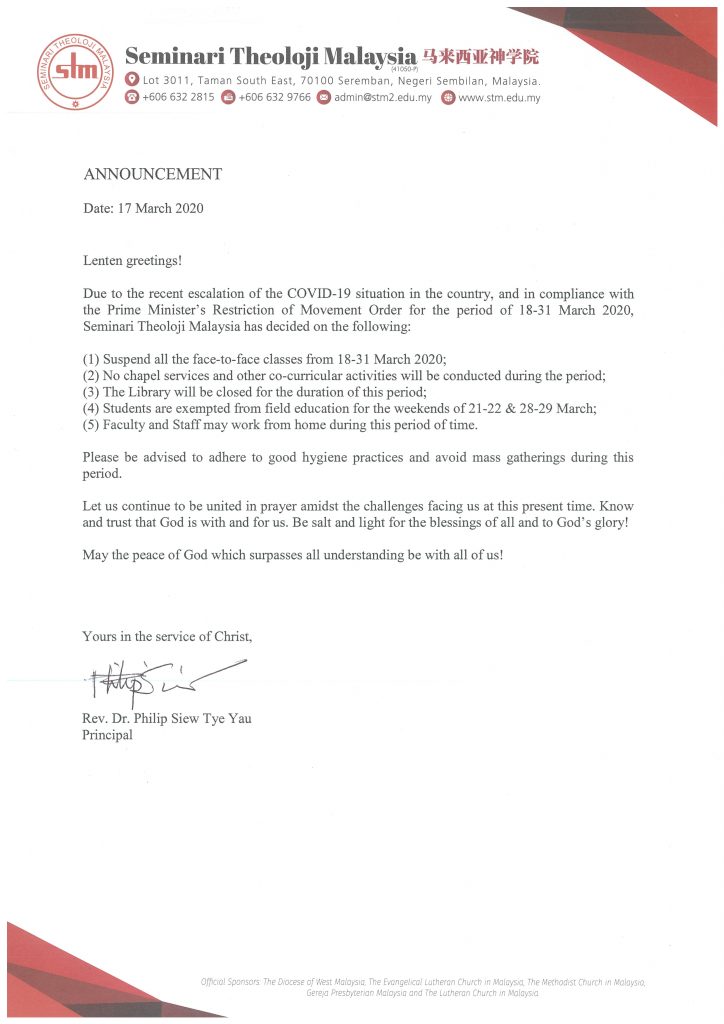 Original Transcript:
Lenten greetings!
Due to the recent escalation of the COVID-19 situation in the country, and in compliance with the Prime Minister's Restriction of Movement Order for the period of 18-31 March 2020, Seminari Theoloji Malaysia has decided on the following:
(1) Suspend all the face-to-face classes from 18-31 March 2020;
(2) No chapel services and other co-curricular activities will be conducted during the period;
(3) The Library will be closed for the duration of this period;
(4) Students are exempted from field education for the weekends of 21-22 & 28-29 March;
(5) Faculty and Staff may work from home during this period of time.
Please be advised to adhere to good hygiene practices and avoid mass gatherings during this period.
Let us continue to be united in prayer amidst the challenges facing us at this present time. Know and trust that God is with and for us. Be salt and light for the blessings of all and to God's glory!
May the peace of God which surpasses all understanding be with all of us!
Yours in the service of Christ,
Rev. Dr. Philip Siew Tye Yau
Principal