Following Jesus
stmweb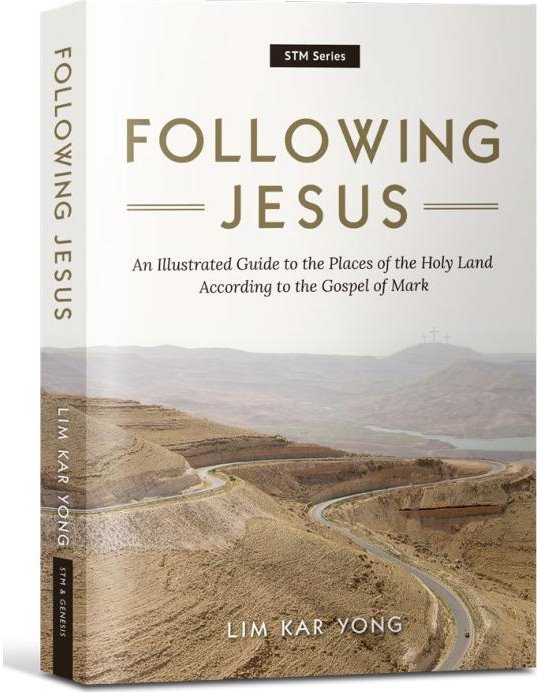 Series : STM Series
Book Launch
There will be a book launch on September 21, 2019 (Saturday) from 10.00am – 12.00 noon. The venue is Faith Hall, Luther Centre
6 Jalan Utara, 46200 Petaling Jaya.
If you are interested, you can register and get more information about the launch: https://www.karyonglim.com/book-launch-following-jesus.html
Publisher
Genesis Books and Seminari Theoloji Malaysia
Copyright © Lim Kar Yong 2019
ISBN 978-981-48-6304-9
Synopsis
Imagine following Jesus in his ministry, listening to his teaching, and witnessing the miracles he did in the Holy Land. Join Rev Dr Lim Kar Yong in this journey through the regions of Galilee, Jerusalem, the Mount of Olives, Bethany Beyond the Jordan, and many others in a pilgrimage that follows the narrative in the Gospel of Mark. With more than 180 images and 13 maps and illustrations, readers will not only experience the sights and settings of the Holy Land, but also discover the biblical significance of these sites. Questions for reflection and prayers at the end of each chapter will help prepare readers for their own encounter with Christ.
About the Author
Rev Dr Lim Kar Yong (PhD, Wales) is a lecturer in New Testament Studies, Director of Postgraduate Studies, and founding Director of the Centre for Bible Engagement at Seminari Theoloji Malaysia, Seremban. He also teaches in other seminaries in Malaysia and the region, and regularly leads study tours to Israel, Greece, and Turkey.
How to order
For ordering and pricing, please click https://www.karyonglim.com/order.html