Passing the Baton: Meditations from Paul's Second Letter to Timothy
master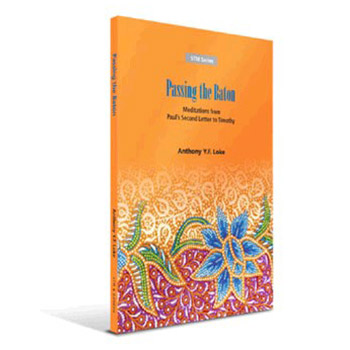 Publisher
A Joint Publication between Genesis Books and STM
Author
Anthony Y.F.Loke
Rev Dr Anthony Y.F. Loke is an ordained travelling elder with the Trinity Annual Conference of the Methodist Church in Malaysia. He holds a PhD in Old Testament from the University of Wales, UK. He presently teaches Old Testament in Seminari Theoloji Malaysia and is the Associate Director of Communications and Promotions.
ISBN 13: 978-983-41281-1-1
ISBN 10: 983-41281-1-8
Category: Christian Living
ABOUT THE BOOK
"Parting is such sweet sorrow," so said Shakespeare. What does one say to another when it is time to depart? Parting words can often be difficult to utter as we see in Acts 20:17-38. The apostle Paul's parting words to the elders of Ephesus caused everyone to weep because they knew they would not see him again. In the Second Letter to Timothy, Paul uttered his farewell words to his young assistant. If we find ourselves in a similar situation and are at a loss for words, this wonderfully crafted parting piece can adequately speak on our behalf.
The material for this book first came to life as a series of 12 sermons preached from mid-2005 to mid-2006 to the congregation of Wesley Methodist Church Segamat in Johor. This book is dedicated to all the members and friends of Wesley Methodist Church Segamat who patiently sat through these sermons and offered valuable support and feedback for improvement.
CONTENTS
Introduction
Paul and Timothy (1:1-7)
The Gospel and Our Response (1:8-12)
The Gospel and Our Conduct (1:13-18)
Our Duty to the Gospel (2:1-7)
Suffering and Endurance (2:8-13)
God's Workmen (2:14-19)
Chosen Vessels (2:20-22)
The Lord's Servant (2:23-26)
The Last Days: Part I (3:1-9)
The Last Days: Part II (3:6-12)
All Scripture is Inspired by God (3:14-16)
The Final Charge (4:1-5)
Postscript (4:6-22)
How to order
Passing the Baton retails at RM20.00 for paperback. You may order online at the website www.armourpublishing.com. For bulk purchase and enquiries, please email books@armourpublishing.com.